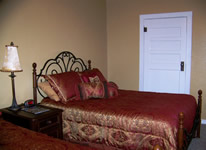 The Woolly Bison Inn is located downtown in the small rural community of Buffalo, Oklahoma.

The Woolly Bison Inn is comprised of four unique units that are spacious and luxurious, providing guests with all the comforts of home. Units can be utilized together or are available separately.
Guests have referred to the Woolly Bison Inn as a "diamond in the rough." The distinctive decor and quiet accommodations are truly a gem you do not want to miss.
Woolly Bison offers a wide range of conveniences, all aimed at making your stay as pleasant and enjoyable as possible, and is within walking distance of 2 restaurants, a lounge, a bank (with ATM), and a grocery store.